Wednesday 27 April
So today was day 1 of the transformation. My Mum came over to help me tackle the job of the lounge/dining area. I had an awesome sketch of the floor-plan I was aiming for and a burning need to succeed.
Because the night before I tried to teach myself to knit. With a picture and a step-by-step DVD tutorial. And this is as far as I got, after about 2 hours:
Yeah - I wish I was joking.
So with the stench of failure in my wake I was determined to get our home to work and look the way I wanted, not how it just kind of fell into place.
We cleaned, mopped, scrubbed, moved, shoved and huffed our way around the space. And at the end of the day we'd achieved a lot.
But it still wasn't finished.
On top of that I had entered the 'man-cave' (also known as the study) and discovered the Guru's terrible secret.
It goes against the grain and I wanted to cry when I saw it.
I had unearthed what I could only describe as 'the-Guru's-collection-of-inexplicable-man-crap'.
I went through it and, whilst considering the idea that he could have built three perfectly functioning computers with all the 'man-crap', made an executive decision about what stayed and what was sacrificed to the God's of Clutter Free Living.
A lot of the time I had no idea what the items were, but I figured;
I had never seen this pile of crap in the entire time we've been together (despite moving house 4 times!); and
He hasn't, to this day, built three perfectly functioning computers.
Therefore he doesn't need any of it.
I'm the first to admit that this theory is highly likely to come back and bite me in the arse.
Whatever. It was messy and it was blocking my vision of a clutter free existence.
It was around this point that I decided I'd had enough for one day and proceeded to feed the Toddler and we both collapsed in a heap.
I woke up in the wee hours of the morning with a craving for a computer and wanting to build cheeseburgers to sell.
Or something.
Thursday 28 April
This day was a blur, and I'm not entirely sure what we did. So I offer you a picture of the Toddler in her Easter-Egg-Hunt-Groove:

That bag was overflowing by the time she was finished...moderation is not a word used often in my family.
And I also offer you a picture of my new best friend. She happily does dishes while I sleep and this makes her the shining jewel in our home...

I may have shed a tear of joy when I set her first load - and then was able to walk away and watch TV.
Friday 29 April

According to a very sneaky source, there was a whisper of a wedding happening on this day. I wasn't 100% sure until I was trying to eat my cereal and drink coffee whilst being beaten over the head with continual blathering about Kate Middleton and Prince William on all channels.
Well, I had other monumental activities to be focused on, so the wedding would just have to go on without me.
It took the remainder of the day but it finally all came together. It was glorious.
So - to begin, let's refresh our memories of what we started with:
The lounge room of doom - view from the front door
The dining dumping ground - view from the front door
These are the only pre-transformation photo's I took. The rest was too shameful.
And now - I unveil the wonderful transformation that is our kitchen...
It's small and stuck in the 80's (for now) - but it's clean and sparkly...with a dishwasher!

Favourite corner of shiny red things #1

Favourite corner of shiny red things #2
I also tackled our bedroom - bought new linen, bed covers and a new lamp that's girly and pretty and has a flocked lamp shade in teal.
Behold! Our room of debauchery!
See the pretty lamp?
Still see the pretty lamp?
And finally - the
Pièce de résistance...
New view from the front door
Awesome lounge area with sleeping child and only one basket of folding. BLISS!
New view from the kitchen area...makes me happy
New view from the front door
Somehow it feels bigger, brighter and better. I walk in the front door now and smile - rather than fall to the floor, curl up in the foetal position and scream 'you can't make me stay here! I'm going to a hotel!'
And that night I locked the door behind me as I departed my sparkling residence and took myself and my child to my parents house for a sleepover and some wedding watching.
Thankfully the wedding watching only lasted as long as it took for my Mum and I to see the dress. Then we were over it and watched The Kings Speech.
We felt good about keeping the movie to theme.
Saturday 30 April
Spent the day shopping with my Mum and the Toddler.
And we hit a milestone.
The Toddler had her first haircut. She now has a little fringe and her curls are all even at the back. I kept the hair, filmed the entire haircut and watched as our baby became a little girl.
I looked at the hair from her haircut later than night and realised I was holding the hair that she was born with 2 years ago. That sprouted on her little head while I carried her. That now bugs her when it flys in her eyes.
I hit the emotional peak of my day at that point and went to bed with some chocolate and a movie.
Sunday 1 May
4am. We're at the airport. And I spy a group of blokes at the other end of the terminal. I scan them and decide that it's not the Guru and his mates. They're obviously football hooligans who go over to Bali to buy more singlets and thongs to wear to their sisters weddings.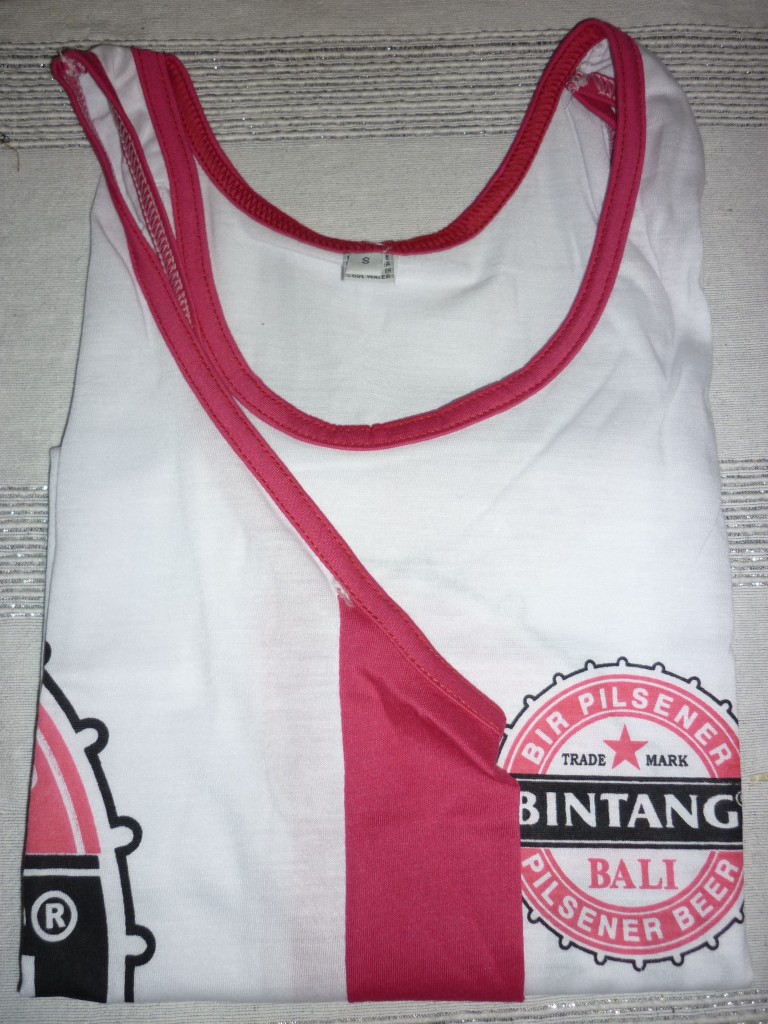 You know, there's nothing like a Bintang beer singlet at a wedding. It's seriously classy. I'll bet William and Harry were wearing one under their jackets.
I continued to wait for my perfectly non-hooligan-ish, non-Bintang-singlet-wearing husband to appear.
I also continued to observe the bloke-ish group advancing on my position.
Before I had the chance to throw my handbag at them and run away, the Toddler screeched 'Daddy!' and wriggled out of my arms before running towards the hooligans.
Hooligans who were now looking familiar.
Hooligans, of which one was the man I married.
A husband hooligan who brought me back 2 Bintang singlets. One pink and one purple.
Sigh. At least I have something to wear to a wedding.
***Sunday after some more sleep***
Sleep in. Watch TV. Obsessively and compulsively tidy things away to maintain my pristine environment.
Drive the Guru insane.
He puts something down and when he goes to pick it up again, it's gone.
I tell him that's because he puts them down in the wrong place.
He asks me how it's possible to put on a pair of shoes if they have to stay in the cupboard unless they're on his feet.
I tell him to stand in the cupboard to put them on.
He says we're going out for dinner.
Monday 2 May
May Day public holiday for the NT. Bedroom TV replacement day for the Guru.
We spend some quality time out with the Toddler - and head home when the tantrums of tiredness begin. We're not even buckled in and she's asleep in the car.
For a child who spent her first three months of life screaming whenever we put her in the car, this has been an interesting development. But I guess not even the most stubborn of children can combat the power of cars and making children sleepy.
Adults too, when they're in the passenger seat.
Once we get home, the Guru immediately starts assembling the new
shrine
TV set up in our room. And promptly falls asleep testing out the picture quality.
It's good to have him home.